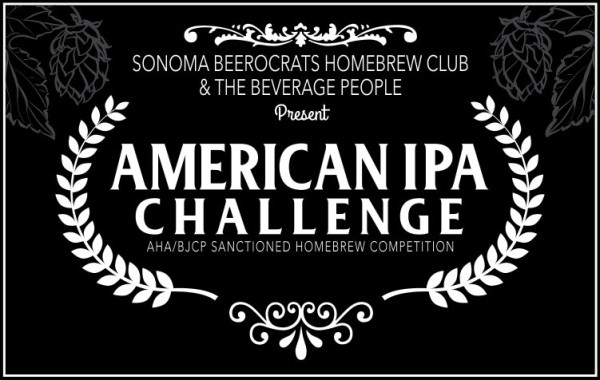 The Sonoma Beerocrats Homebrew Club & The Beverage People invite you to enter the American IPA Challenge.
We are proud to kick off 2016 with an American IPA Challenge our first of four AHA/BJCP Sanctioned Homebrew Competitions for 2016.
Three steps listed to enter
Registration window is open February 23 and closes April 9th. Entry is $8.00 per entry(maximum of 3 entries are allowed).
Download the Bottle Id Form. Fill out and attach a Bottle Id Form to each bottle with a rubberband. No additional markings on bottles or caps are allowed.
Drop off three 12oz bottles per entry at The Beverage People between the 9th & 16th of April with a copy of your entry receipt. Entries will only be accepted during dropoff times. Mail in entries are accepted. Mark your package Sonoma Beerocrats American IPA Competition.

---
Winning Entries
There were 15 entries judged and 21 registered participants, judges, and stewards.
Category 21a: American IPA
| Place | Brewer | Club |
| --- | --- | --- |
| 1st | Matt Kennedy | Sonoma Beerocrats |
| 2nd | John Arends | Sonoma Beerocrats |
| 3rd | Cami Kent | Sonoma Beerocrats |
Thanks to all who participated in the American IPA Challenge, our first of four Quarterly Competitions in 2016.
---
When will I hear back?
All entries will be judged according to the 2015 BJCP Style Guidelines by a panelof BJCP Ranked Judges. The top 3 entries will be awarded ribbons. Ribbons and scoresheets will be mailed to participants by May 2nd.
Questions? Contact Ron Slyh at slyhdesign@mac.com